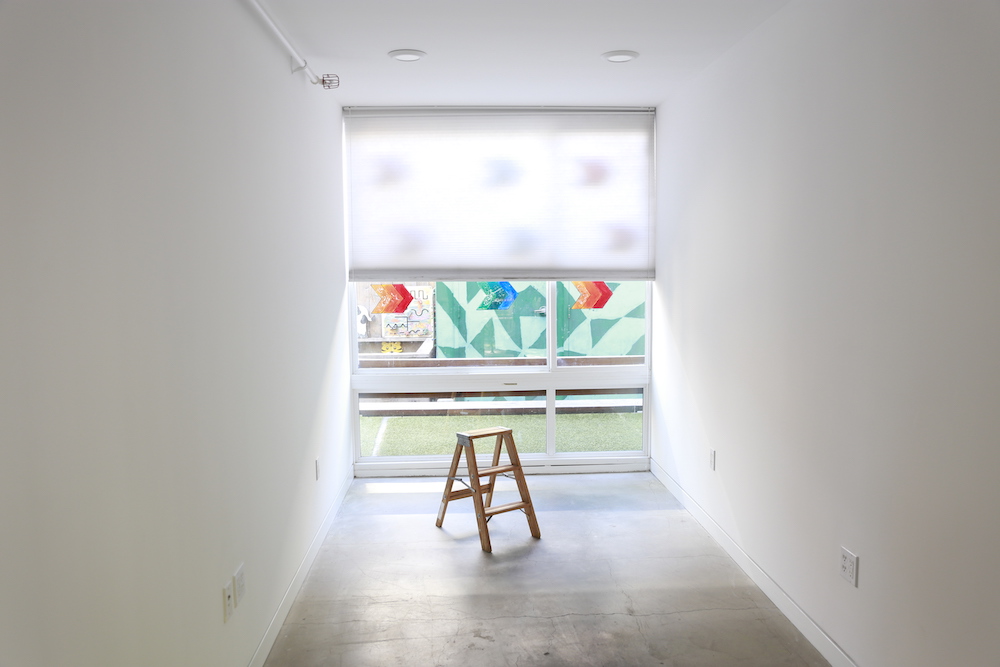 Oakland BIPOC Residency
November 2020 – August 2021
Application is closed → Selected residents announced here
This Will Take Time & Real Estate Art are pleased to announce an open call for funded residencies for Bay Area artists, cooperatives, and creative practitioners who identify as Black, Indigenous, or as People of Color. The residency will take place in a converted shipping container studio in the MacArthur Annex development, a block from the MacArthur BART station in North Oakland.
While the residency can be used for the production of specific projects, we recognize that creative practice does not always result in an 'art' object. The full range of activities artists perform includes research, planning, meetings, community building, self care, open-ended time, and rest. We welcome residents to use this space in whatever way best serves their needs, and no specific project proposal is required. Please review the information below and apply before our September 30th deadline.
This Will Take Time is a non-profit organization that supports long-term experiments in land use, education, and the arts. Since 2015, TWTT has operated a residency in Point Arena, CA that has served creatives from the Bay Area and beyond.
Real Estate Art is a project by Kuba Snopek that proposes a new model of investing in art: one which aims to prevent the displacement of artists and helps the developers reframe their relationship with art.
Context
Since 2014, the city of Oakland has mandated developers commit up to 1% of a new building's budget to the arts. While we support the intent of this requirement, the current process often results in expensive public sculptures that are disconnected from the communities around them. This residency prototypes an alternate use for this vast source of funding, piloting a model in which developers directly sustain the livelihood of local artist communities.
While Oakland continues to rapidly gentrify, the pandemic and housing crisis are further destabilizing artist communities of color. The need for funded opportunities and sustained support for local artists is more important than ever. This residency is one initiative among many we'd like to see manifest here in the Bay Area. If you are a developer, landlord, or business owner who would be interested in working with us to support creative communities, please email hello@thiswilltaketime.org.
What to Expect
Time
Residencies are available from November 1st 2020 to August 31st 2021, and start on the 1st or 15th of each calendar month. Each residency lasts a minimum of 2 weeks and up to 2 months.
Space
You will have 24-hr access to a converted shipping container studio, which will be yours alone to use for the duration of the residency. This ground floor room is an ADA compliant space, measuring 7' x 19' (133 sf). It will be furnished with a large work table, chairs, and shelving. Alternative or additional furnishing and equipment can be requested, and we'll do our best to adapt the space to your needs. You'll also have access to the internet, a mailbox, gender-neutral bathrooms, and to the outdoor common patios.
Funding
Individual residents will receive a monthly stipend of $500 (or $250 for half a month), while collectives will receive up to $1000 a month. This is a no-strings-attached stipend, to use as you see fit.
Work
This residency should be for your benefit, not ours. Any work you make belongs to you. We support proposals for new or continuing projects. While the core resource is the studio space, we're committed to supporting you and your work in any way we can.
Community
Current tenants include a record store, nail salon, spa, immigration attorney office, tailor, and beer garden. TWTT Oakland residents will be a temporary part of this community, and are encouraged to meet neighbors and engage with place. While we'd love to facilitate and host gatherings and events at the space, given the unpredictable nature of the Covid-19 pandemic, we'll be following safety guidelines from local government as well as the CDC. Residents should be equipped with PPE and are expected to do their best to keep themselves and the community safe.
While in residence, we encourage artists to share the process and story of their work online. Residents will be given access to the @thiswilltaketime Instagram account as an optional platform to engage our digital community.
How to apply
The TWTT Oakland residency is open to BIPOC artists, activists, and creatives in the Bay Area. Applications will be accepted between September 7th and 30th. We encourage you to apply individually or as a collaborative.

Our application is meant to be very simple. You will be asked to provide the following:

- Your name, preferred pronouns, and contact details
- Relevant links or portfolio
- Intended use of the space or project description
- Preferred residency length and dates

Applications are now closed → Application
Application Deadline: September 30th, 2020
We'll notify you via email upon receiving your application, but don't hesitate to reach out if you have questions.
Residents will be selected by a small panel. Panelists include multidisciplinary artists Yétundé Olagbaju & Dorothy Santos and TWTT co-directors Benjamin Lotan & Tara Shi. Residencies will be announced October 14th, two weeks after the submission deadline.
Feel free to follow us on instagram or subscribe to our emails for residency updates.